ADT is North America's largest home security company. Globally ADT protects over 6 million customers. ADT protects homes and commercial properties.
One way ADT gets new customers is through a dealer program. Dealers are third-party vendors that get new customers to sign up, then they sell those contracts back to ADT. Some vendors rely on gimmicks and scams to get new customers. One of these is the very misleading ADT free equipment scam.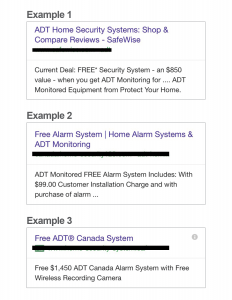 The ADT free equipment scam is that when the customer signs up with the ADT dealer, they will get hundreds, if not thousands, of dollars worth of free equipment. They will be responsible for paying the monthly monitoring of their ADT system. This will be over the term of an ADT contract, which is usually 3-years. Free is good, right?
The ADT free equipment scam blatantly attempts to mislead the customer. The equipment is not free. Free means getting something without any responsibilities in return. If it was truly free, the customer wouldn't have to pay anything. They could simply get the equipment without any obligations. The customer actually pays ADT thousands of dollars over the term of their contract. The free equipment is not free at all.
Plus the cost of the equipment in the ADT free equipment scam is also misleading. Some dealers put dollar amounts on the free system the customer "gets". Some of them list it at $800, and some list it at $1500. There is no actual amount since at no time does ADT ever really sell the customer the equipment. There is no list price. The numbers being posted are all fabricated, so fool the customer into thinking they are getting something of great value for nothing.
The ADT free equipment scam is bogus. It's criminal. One has to wonder why there hasn't been a class action lawsuit against ADT's various dealers on this "free" offer. If the customer can't get the system without any obligations then it's not free at all.
With ADT recently being purchased by investment fund Apollo Global, perhaps they will clean up their dealer's misleading marketing. In the meantime, shoppers need to be vigilant against misleading practices. Protect yourself against scams. And remember nothing is truly free. Especially in regards to the ADT free equipment scam.