A staple in all home alarm systems, this pinpad allows you to arm & disarm your system. Place this at the entry points to your home for convenience.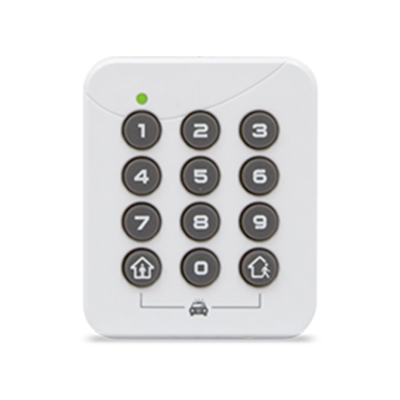 • Simple & convenient system control
• Simple peel & stick installation
• Smash protection
Where should I put this?
Place these near the entry/exit points of your home for convenient system arming and disarming.
How many do I need?
All of our packages include at least 1 Keypad/Pinpad, however, if you have 2+ entrances to your home you frequently use, we recommend you place a Keypad/Pinpad in these areas also.
Anything else I should know?
Older traditional alarm systems have a big security flaw: if a burglar smashes the keypad quickly enough the signal doesn't go through and the police are never alerted. Our systems come with Smash Protection, which means even if the keypad is smashed, the alarm will still be triggered.
Need to expand your existing Think Protection system?
Call 1-855-768-4465 to add equipment anytime
2.28 x 1.97 x 0.40 inches
85% non-condensing relative humidity