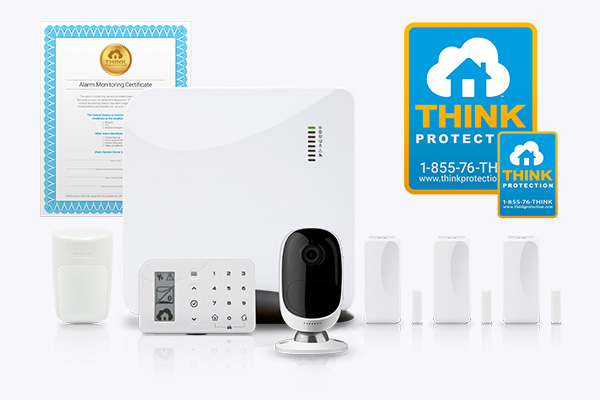 EXCLUSIVE DEAL FOR VENNGO MEMBERS
Order any alarm package and SAVE $100 plus get FREE SHIPPING!
Use offer code VENNGO before checkout and claim this great discount! Offer is only valid between April 1st and April 30th 2018.
Keep Your Home Safe
For $12.99/Month
At Think Protection, we believe security should be easy, affordable, and accessible to everyone. That's why we offer the most advanced home alarm systems at the lowest price in the industry.
With your Think Protection alarm, you'll receive award-winning technology, 5-Diamond alarm monitoring, the best customer service in the industry and our FREE mobile app! No other alarm company comes close to our value!
No Annual Contract
30-Day Money Back Guarantee
We know you'll love your Think Protection alarm system, so unlike other alarm companies, we won't force you to sign any long-term contracts. If you're unhappy you can cancel your service at any time without any strings or conditions.
We also offer a risk-free 30-day money back guarantee. If during this period you're unhappy we'll reimburse you 100% of your upfront equipment costs.
Award Winning Technology
No Landline Required
Each system connects to our 5-Diamond central monitoring station through internet or cellular. If an intruder cuts your home phone line you'll still be protected. We offer a full range of products including indoor and outdoor cameras, monitored smoke & CO detectors, glass break sensors & flood detectors. These revolutionary devices can be
added at anytime
at the most competitive prices in the industry.
Every system is expandable, allowing you to build a package that fits your needs. Our equipment is tamper proof and wireless, which means installing the alarm won't require any drilling. You can even take the system with you if you move.
Free Mobile App
Control Your Alarm Anywhere
You shouldn't have to pay extra to have complete control of your alarm system, which is why we include our mobile app for 
FREE
. From busy mornings to rushed outings, forgetting to arm your system is bound to happen. Just open the mobile app and arm directly from your smartphone or tablet, keeping your home safe (and your pride intact).
Vacation property owners and people who travel often can rest easy knowing that full system control is at their fingertips. Add our home automation service for full smart home capabilities. Control your lights, locks, thermostat and more, all from the Think Protection App. You'll always be on top of what's going on with alerts sent directly to your smartphone.
Founded By Joel Matlin
Security Industry Icon
Think Protection was founded by Joel Matlin, one of the most revered figures in the security industry. With over
40 years experience
, Joel brings an unmatched history of innovation and experience to Think Protection. Regarded as the leading figure in the home security space, he's sold over
350,000
alarm systems and brought numerous industry-defining products and services to market.
Joel's mission with Think Protection is to change security by offering the best technology in the industry at the absolute lowest price.
Ready to make the change to smarter, more affordable security?
Ready to make the change to smarter, more affordable security?
Traditional alarm companies advertise with promises of free equipment valued at $1000 or alarms starting from only $99. Once you're lured in, they trap you with a 3-year contract which over time can cost you thousands of dollars. At Think Protection we have no hidden costs or long-term contracts, we believe security should be accessible & affordable for everyone.
Because we've eliminated the need for installers & bothersome cold calling salesmen we can offer the highest level of protection for less, keeping your wallets full. We're working around the clock to further improve our products and will always provide you with the best value & exceptional customer service.
Average Savings Over 3 Years
With Think Protection
Cost Over 3 Years (36 Months)
Switching to Think Protection helped us save over $80 monthly on home alarm plus the required phone line that we previously have. Setup for this system is very easy. Their tech support guided us step-by-step and we were done in 15 minutes.
Need an all around Home Security System? This is it. You can build it as small or as large as you want or need, with low hardware costs, maintaining affordable monthly monitoring fees with no long term contracts.
A great experience with the purchase and assistance. They take the time to work with you to finalise the best system for your home. Value for your money.
Super convenient experience. I ordered online and setup really only took me 15 min. And I loved that there were no high pressure sales techniques unlike every other alarm company that I've dealt with.
I've been a customer with Think Protection for over a year now and have not had any regrets. The product was easy to install and customer care was quick to respond to inquiries.
This system is top notch. Not only do I feel incredibly safe inside my home once I activate the system, but I love the countless other features that I have or have access to upgrade to over time. All the functionality of a more expensive systems at literally a fraction of the cost. Simply couldn't be happier.