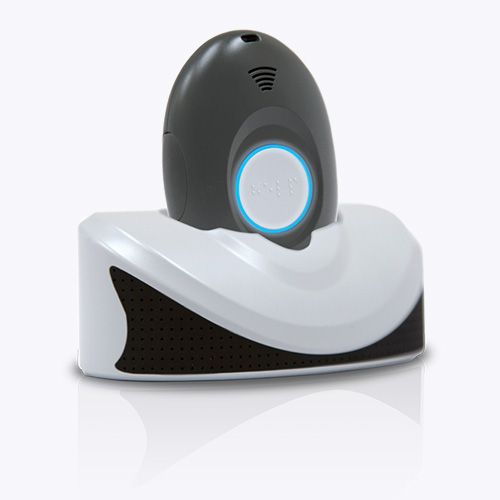 Help At The Push Of A Button
Feel safe and confident when you're on the go or at home knowing that you can get help 24/7 at the push of a button.
Scroll down to learn more
ThinkAlert Mobile is built for your active lifestyle means you're protected both at home or on the go
The waterproof casing means you can wear it in the bath or shower, a common place for accidents to occur.

Location and status updates can be sent directly via text message to an emergency contact's phone.

With up to 48 hours of use between charges, you can be worry-free, even if you forget to charge it overnight.

Weighing only 1.5 ounces it's comfortable to carry or wear. Shatter-resistant with rugged construction.

Crystal clear audio quality through the built-in speaker. Voice prompts let you know the status of your call.

Visual and audio indicators will inform of a low battery as well as informing the monitoring center of your battery status.
In the event of an emergency, the ThinkAlert unit will connect through two-way voice to our monitoring center while simultaneously sending a text message to the user's emergency contact list. These text messages provide a map with the exact GPS location of the user.
Simple to use, the large button is recessed, making it easy to find in an emergency. "Help" is written in braille.
The location of the ThinkAlert unit is sent directly to the monitoring station & emergency contacts via text message.
24/7 5-Diamond Monitoring
Our trained and certified operators are ready for any emergency, getting immediate help for you or your loved one.
In 3 easy steps you'll get the help you need anywhere & anytime. Complete peace of mind at the push of a button.

During an emergency, press the large recessed help button. Voice prompts will inform you that an emergency call is being placed. With the Fall Detection Upgrade, a call will automatically be placed if a fall occurs.

Trained & certified operators from our central station will reach out to assess the situation. As the call is connecting a text will be sent to emergency contacts alerting them to the emergency & providing a GPS location.

With a reassuring voice on the line, we can contact family, friends, neighbors or emergency services to get the help you need immediately. If there's no emergency simply inform the operator, there are no false call charges.
You have a choice between 2 monitoring options depending on the level of protection you need.
Your ThinkAlert system will be connected to our 5-Diamond central station and monitored 24/7. Trained and certified operators will always be ready to handle your emergency.
All the benefits of our standard monitoring paired with advanced fall detection. If the user does fall, the unit will automatically place a call to our Central Station
Get out more and live your life independently
Get out more and live your life independently